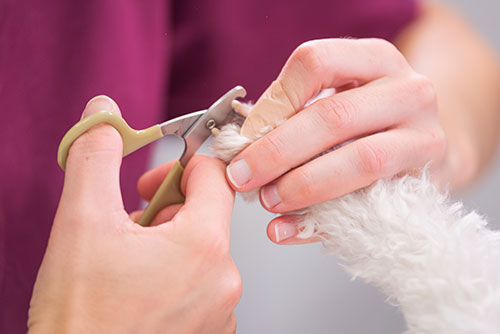 Immaculate Pooch is super excited to announce we will be holding next nail trim clinic!!! Thank you for your patience while we figured out the logistics with the COVID-19 guidelines and proper sanitation in between each pet!!
This nail clinic will be offered for current Immaculate Pooch clients only. We look forward to opening this nail trim clinic to the public in the future, but for now current clients only!
Please remember this will be a solo team member event! If your dog requires the assistance of more than one person for nails, please contact us!
Nails will be trimmed only, no filing for sanitation purposes. If your dog can tolerate it, I will try my best to shave the edges of the nails with nail clippers so they won't be as sharp!! (If a pet is carrying the virus, we do not want it airborne by filing nails without washing your dog first!)
When:
Sunday June 21st 2020 from 9:30-11:30
Weather permitting as this is an "outdoor event", weather underground told me we're in the clear, but it's NE…so you never truly know!🤣 I will post an update if we are forced to schedule a rain day!! 💕
Where:
In our awesome new outdoor kennel system!!👏👏
Immaculate Pooch Grooming
1069 Main Street
Leicester, MA 01524
Cost:
$22.00 per dog
This temporary price increase is to help cover PPE and sanitation for and throughout the clinic. This will be a cash only clinic and we will not be able to provide change! For pets who live the same household, the first pet will be $22.00 and additional pets will be $20.00 as long as PPE does not have to be changed!
What to expect:
We will not be taking appointments! This will be a first come, first serve event!
Please remain in your vehicle with your pet until I give you the thumbs up to bring your it pet into the kennel!
You will enter and exit through the Client Side of the kennel bank, secure the door shut. Bring your pet into the holding area of the kennel, remove their collar and leash, grab a COVID-19 release slip and pen and then return to your vehicle until I return your pet into the holding area for pickup!!!

When I exit the kennel bank, you can exit your vehicle and retrieve your pet from the client side of the kennel system! You are welcome to take the IP lead we will use for your dog! (If you don't want it, please leave it on the ground for sanitation!)
Place payment and COVID-19 release in the Express Check Out box in the holding area, the pen is yours to keep!
Please exit through the same doors you entered through!

I will need to allow for a minimum of 7-10 minutes for sanitation in between each dog! So please wait patiently in your vehicle until I give you the thumbs up that the allotted time for sanitation has been satisfied for you and your dog to enter the kennel system!!
There are SO many dogs who need their nails clipped for their health and safety! I miss you and want to catch up with you immensely, but in order to accommodate helping as many dogs in need as possible…if someone else is waiting, conversations must be kept to a minimum!! This breaks my heart as you are just as important to me as your pup…but I must allow enough time for each pet to be toenail, pain free!!!
Once and a million times again, I cannot thank you all enough and express how much I appreciate you and ALL of your patience and understanding during these new times!!
I so look forward to seeing any and everyone who is able to make it tomorrow!!! If not tomorrow, keep an eye out for out next nail trim clinic!! 🥰❤️💕🐾🙏
Nail trim clinic safety and sanitation practices!!
When your dog's nail trim is complete and you have exited the kennel (through the same doors you entered), I will begin by spraying the entire kennel, table, and mats down with disinfectant.
I will bring the tools used, inside where they will be put into the UV Sanitizer.
I will wash my hands, arms, and face, change my uniform, and sanitize my shoes. After my uniform has been changed, I will re-sanitize myself with hand sanitizer.
New, sanitized tools and mats will be used in between each dog from different households!
When sanitation is complete and I am ready for the next dog, I will wave you over for you to bring your dog into the kennel system!!
I am asking pet parents to remain in their vehicles until I wave you over, both while waiting for your pups nail trim time and during their nail trim!! Please keep in mind that some dogs can be very vocal and/or mouthy for nails, but I promise I have it covered and I am not hurting them!! Please do not correct your dog if you see or hear them doing this!! 🥰🙏👏